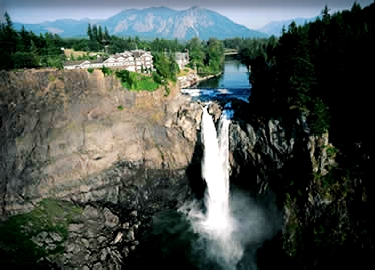 Conference Information
BRIEF
We are hosting the third international meeting on electron capture dissociation (ECD) to include electron transfer dissociation (ETD) and related methods for electron-based fragmentation in mass spectrometers. Lectures will cover both the fundamental physical chemistry (or chemical physics depending on your orientation) of how the process may work as well as applications in biology; e.g. proteomics and glycomics.
HISTORY
Two meetings have been held to date. In 2003 the first meeting was hosted by ECD co-inventor Dr Roman Zubarev on a cruise ship sailing from Stockholm, Sweden to Helsinki, Finland. In 2004 Dr Patrick Langridge-Smith hosted the 2nd at the Marine Hotel in North Berwick, Scotland. The 3rd meeting will be hosted by Dr David Goodlett at Salish Lodge and Spa and will include ETD and related methods.
In 2004 some of the lecturers included: Drs Roman Zubarev of Uppsala University, Matthias Mann of University of Southern Denmark, Chris Hendrickson of the National Magnet laboratory, Takashi Baba of Hitachi Ltd, Peter O'Connor of Boston University, Kristina Hakansson of University of Michigan, Robert Hudgins of York University, David Goodlett of University of Washington and Einar Uggerud of University of Oslo.
In 2003 many of the same gave lectures, as well as Dr Fred McLafferty of Cornell and Dr Frank Turecek of University of Washington. Topics have ranged from fundamental physics of electron capture to applications in proteomics and glycomics. Attendance has ranged from 40 in 2004 to 60 in 2003.
AGENDA
Attendees will arrive Tuesday afternoon 6 December. Posters will be set up and left up for the duration of the meeting. That evening, after attendees are settled in a reception with light hors d'ouvre an orientation on the spa and a lecture describing the historical use of electrons to fragment molecules in mass spectrometry leading up to ECD will commence. On Wednesday there will be at least 12 lectures followed by poster viewing and a mixer. In the event that there is snow on nearby Snoqualmie Pass, Thursday morning will be open for skiing and general ad hoc discussions. For those not wishing to play in the snow the possibility of hiking around the lodge (which is at low enough elevation that there should be no snow) or experiencing the relaxation of Japanese style spa exists during this time. Six lectures will be presented Thursday afternoon followed by a banquet that evening, and a lecture projecting the future of the field. Depending on the response six more lectures may be held Friday morning with a Friday afternoon departure.
REGISTRATION
Please fill in the attached pdf registration form and mail it with registration fee to Ms. Vivian Sabiniano at the address below. Also please fax a copy to the number below. This way we will be sure to expect your registration in the mail. Checks should be made payable to
"University of Washington Department of Medicinal Chemistry"
The registration fee covers a light meal at the Tuesday evening reception; light breakfast on Wednesday, Thursday and Friday; lunch and dinner on Wednesday and Thursday.
Also, because this is such a small meeting we would like all who register to submit a title and abstract. This should be sent to goodlab@msn.com. Thanks! These abstracts will be used to select some of the other speaker slots.
Numbers & Email
If you have any trouble registering, please contact us here:
Email Address:
medchem@u.washington.edu
For those wishing to wire funds please follow the instructions "Wire Transfer Requirements for Payor" at
Because we are charged $25 to process this we must pass this charge on to you. Therefore please add $25 to your registration fee. Unfortunately, we cannot accept credit card payment.
LODGING
UPDATE 7 September 2005: Note that the hotel has now informed us that it requires that all who wish to receive the reduced room rate of $165/night must do so through Medicinal Chemistry who are hosting the meeting. Thus at the time you send in your conference registration please indicate arrival and departure dates for nights you will stay at the lodge. We will pass this on to the lodge and confirm with you.
Salish Lodge and Spa is a full service spa modeled after Japanese spas. We picked this location for several reasons:
Its secluded locale
Proximity to the airport (45'), Seattle (45') & skiing (30')
Oddly, because they allow smoking outdoors. Many of the other locations we looked at did not allow smoking anywhere on site.
Each participant is responsible for making their own room reservation with the Lodge. We will, of course, cross check our registration list with the Lodge's registration. Note that there are a limited number of rooms with two beds available. Because the Lodge has only ~ 80 rooms and we would like to accommodate as many as possible, please only book a double bed room if you know you have a room mate. All rooms are available at the same rate of $165/night. So you will save some money with a roommate. Note that each room is quite luxurious and includes a fireplace, Jacuzzi tub and, in the singles, a massive King sized bed. If the Lodge runs out of rooms then please let us know and we will try to find a roommate of your choosing or help you find a hotel near the site. Those not staying at the Lodge will need a car to go back and forth.
FINAL AGENDA AND INFO
PLEASE SEND ALL CONFERENCE CORRESPONDENCE TO
SPONSORS
We thank each of the following organizations who have provided monetary sponsorship for the meeting. Without them the meeting would not be possible.